The arrival of the Fall season means just one thing in Arizona and across the desert southwest: hiking season is officially here. Just because temperatures have started to trickle in a cooler direction, doesn't mean that hikers need to hydrate any less when heading out on desert trails. In the last week 7 hikers needed to be emergency rescued from Camelback Mountain alone, and according to the Phoenix Fire Department, the majority of mountain rescues occur as a result of dehydration or heat exhaustion-related injuries and disorientation. To help remind hikers to stay hydrated and stay safe this hiking season, Scottsdale-based True Nopal Cactus Water is making it thier mission to remind hikers to always #HikeHydrated and will be hitting the popular hiking trails across the Valley for the #TrueNopalTrailTakeover campaign to fuel hikers with uber-hydrating and all natural cactus water dispensed ice cold from the True Nopal hydro-jetpack. Starting this weekend, the #TrueNopalTrailTakeover team will be helping keep hikers on Camelback Mountain and will hit numerous trails across our state every weekend through hiking season.
"When it's over 100 degrees outside, drinking a lot of water is second nature for most people, but when cooler temperatures arrive it's easy to forget that we still live in one of the driest climates in the world and keeping yourself hydrated, especially when you are doing any kind of physical activities outdoors in the sun is absolutely critical, "said Tom Zummo, Founder and CEO of True Nopal Cactus Water. "The start of hiking season also marks the start of visitor season, and while permanent desert dwellers know that we need to maintain a high level of water consumption all year, Arizona vacationers often don't know just how much water they need to drink andbring with them if they plan to hit the trails on their Valley visit this year," he said.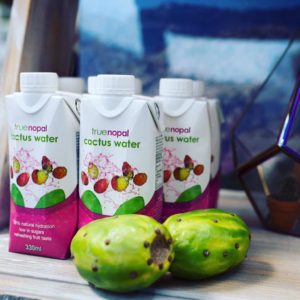 According to Authority Nutrition (www.healthline.com/nutrition) , humans need to consume at least two liters of water every day. For hiking, consider the circumstances before you head out on the trail and take at least twice as much water as you think you'll need. Variables like weather, terrain, distance, physical fitness and acclimation to the environment you'll be hiking in all play a major factor for people who are not used to desert conditions. Everyone should take extra caution to drink lots of water when hiking, but those not used to Arizona's dry environment need to be extra vigilant in hydrating well before, during and after their outdoor activities.
To help remind everyone to #HikeHydrated this hiking season, True Nopal is challenging hikers everywhere to play a new kind of drinking game every time you hit the trails.
"When you see a cactus – drink and when you see another cactus – drink again. Every time you see a cactus on the trail, grab your water bottle and take a sip," Zummo said. "Since there is cactus just about everywhere you look – it should be easy to remember to keep that water consumption going," he said.
The company hopes that the visual reminder and #TrueNopalTrailTakeover will get hikers to think more like a cactus when fueling up outdoor activities. Indigenous to the Sonoran Desert, the prickly pear cactus is one of the most sustainable plants in the world that not only survives but thrives in the driest ecosystem on the planet. The prickly pear cactus has an exceptionally complex plant structure that not only effectively fuels itself and preserves its own hydration, but it also bears a fruit 'Prickly Pear', a vitamin-rich 'superfruit' that tastes a bit like a strawberry and kiwi hybrid. It's the essence of Prickly Pear cactus that has made True Nopal Cactus Water the number one selling cactus water in the world. With less than half the calories and sugar in coconut water, True Nopal is 100% vegan and packed with electrolytes, potassium, magnesium, and antioxidants.
In addition to good old-fashioned H20, you boost your body's ability to stay hydrated by adding cactus water to your pre, during and post-hike hydration regimen. Cactus Water is the ideal daily hydration beverage and helps your cells to absorb and maintain more nutrients and minerals than simply drinking water alone. Cactus water is the latest hydration must-have for pro-athletes, sports trainers, yogis, marathoners, sports nutritionists, and wellness gurus.
True Nopal is currently sold in the US, UK, Ireland, New Zealand and Guam in over 9,000 grocery and health food stores including Sprouts, Whole Foods, Albertson's, Safeway, Kroger, Fry's, Waitrose (UK), Tesco (UK) and many other retailers. The product also retails online and is listed as 'Amazon's Choice' for the category on Amazon.com.
Many of the Valley's premier hotels, resorts, restaurants and attractions also offer True Nopal Cactus Water for in-room beverage selections, spa and wellness programs and retail boutiques including The Phoenician Resort and Spa, The Westin Kierland Resort, Four Seasons Resort at Troon North, Hyatt Gainey Ranch Resort and Spa, JW Marriott Camelback Inn, The Scottsdale Plaza Resort, AC Hotel Tempe, and L'Auberge de Sedona. A number of restaurants and attractions also offer True Nopal Cactus Water including Farm and Craft in Scottsdale, Chloe's Corner at Kierland Commons, Gertrude's at the Desert Botanical Garden and The Grand Canyon Shops.
True Nopal believes in providing products that are great tasting and good for you that also support an active and healthy lifestyle, so keep an eye out for the #TrueNopalTrailTakeover team as you hit the trails this season and remember to #HikeHydrated all year long.
To join in on the #TrueNopalTrailTakeover and #HikeHydrated campaign and stay up to date where the next trail hydration station is, follow @TrueNopal on Facebook and Instagram.
###
About True Nopal:
True Nopal, based in Scottsdale Arizona, is the number one selling Cactus Water brand in the world and the creator of the Cactus Water category. True Nopal believes in providing products that are both good tasting and good for you while helping support an active, healthy lifestyle. True Nopal is passionate about doing things that are beneficial to people and the environment. We maintain a faithful commitment to preserving and sustaining the planet with a socially conscious effort to help make Earth a better place. For more information, please visit www.truenopal.com